| Enter D'Apps | I'm using this site to gain competence with technologies that I intend to utilize in the classroom. My college is doing a pretty good job teaching traditional methods, however, I only have one instructional media class and I believe that 21st century students should learn with 21st century technology. When I begin my teaching career, I want to integrate technology starting on the first day, and the only way I'll be able to do that is to start practicing now. I'll use blogs in the classroom for communicating with parents and daily roving reporting by students. Students will also have the option to write on their own blog. Over the next couple of years I'll model how I'll use use blogging in the classroom on this site. Please check out my other sites concerning Handhelds and Podcasting. |
| --- | --- |
Monday, October 23, 2006
Double Digit Multiplication
Heres some screen shots from the working Double Digit Multiplication application I've been working on. I've figured out a few processes that allowed me to incorporate a keypad, and the good news is that I'll be able to do rebuild the long division application with a keypad. I don't think the 4th and 5th graders necessarily need a keypad, but I want school administrators who are unfamiliar with palm graffiti to have the ability to use my applications when I push for mobile devices in my future classrooms.
I will make this application available after I finish the other segments. And I will provide working previews at the upcoming Michigan Conference for anyone who asks.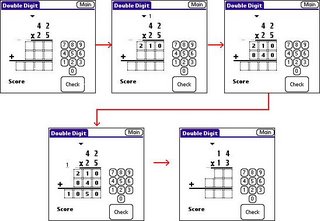 Comments:
Hi Help homeless children!
cheap [url=http://phentermine.alldating.org/phentermine.htm]phentermine[/url] online
phentermine
Bye
Post a Comment
<< Home