| Enter D'Apps | I'm using this site to gain competence with technologies that I intend to utilize in the classroom. My college is doing a pretty good job teaching traditional methods, however, I only have one instructional media class and I believe that 21st century students should learn with 21st century technology. When I begin my teaching career, I want to integrate technology starting on the first day, and the only way I'll be able to do that is to start practicing now. I'll use blogs in the classroom for communicating with parents and daily roving reporting by students. Students will also have the option to write on their own blog. Over the next couple of years I'll model how I'll use use blogging in the classroom on this site. Please check out my other sites concerning Handhelds and Podcasting. |
| --- | --- |
Sunday, October 29, 2006
I found this little app on FreewarePalm this morning, and its really handy to have if your powerbutton goes bad. Basically, this freeware application turns a hard button (Calendar, Address, Todo, Note) of your choice into the power button. My daughter's Tungsten E button is bad and its nice for her to regain the ability to power off the when she wants it off.
PowerBtn
Saturday, October 28, 2006
"That's a goofy way to do it"
Just so I remember.

I really had fun in my daughter's kindergarten class yesterday. We did a set of measurement experiments on pumpkins before turning them into jack-o-lanterns. I let my group of 5 decide the shapes they wanted to use on the pumpkin by vote, and at the voting one of the kindergartners said "That's a goofy way to do it."

Monday, October 23, 2006
Double Digit Multiplication
Heres some screen shots from the working Double Digit Multiplication application I've been working on. I've figured out a few processes that allowed me to incorporate a keypad, and the good news is that I'll be able to do rebuild the long division application with a keypad. I don't think the 4th and 5th graders necessarily need a keypad, but I want school administrators who are unfamiliar with palm graffiti to have the ability to use my applications when I push for mobile devices in my future classrooms.
I will make this application available after I finish the other segments. And I will provide working previews at the upcoming Michigan Conference for anyone who asks.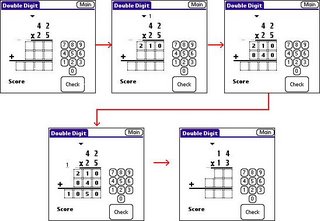 Thursday, October 12, 2006
Windows Mobile (PPC) programming
Well, I've been looking at a development platform for PPC's for about a week now and I'll be able to duplicate most of my PalmOS programs in a Windows Mobile format.
Here is a shot of my experimentation with a numeric keypad going into multiple text fields.
The big challenge for me was creating a string of numbers, which is necessary for certain applications. The solution was actually quite simple and with that solved I can move forward fairly easily.
Tuesday, October 03, 2006
AboutFace Application
Primarily for younger grades, this application consists of 144 images that I used in the DroPairs Time pairboard I created around the New Year. The result is quizzer that is about twice the size of my other applications coming in at 300 kb. This application is intended for color devices.
AboutFace
Monday, October 02, 2006
Subtraction
Here is the subtraction download. It is definitely a OS 5 Application. The Snap shots are found down below.
Subtraction
Addition
Here is the download for the Addition application. I'll post the downloads for Subtraction, Rounding, a new time application called AboutFace, and a redesigned AboutTime throughout the week.
Addition is intended for OS 5 devices. It may work on OS 4 devices (I can't find my m500 and sony SL20 at the time of the post), but does NOT work on the 3.5 OS Visor Prism. See the blog post below for images of Addition. I have no idea how my applications interact with PocketPCs and Styletap. If anybody has tried my applications using styletap I would love to hear how they do.
Addition
The software I create for educational purposes will always be freeware. I really hope this software is useful for educators who utilize handhelds with their students. My application are not nearly as cool as the GoKnow suite or the MIT Participatory Simulations, but thats not my goal. I want to create applications that teachers and administrators, who are hesitant about introducing and utilizing technology, know how to fit within their curriculum at first glance. I want people to say "Wow, thats cool what else can you do with these things" instead of "Wow, thats cool. How does that really apply to me and what I have to teach?" I think you have to make strong initial connections with skeptics before you can demonstrate the really cool and transformative capabilities of the handheld
(Please note: I am a student. I'm not even a student teacher. And anything I say about this should be taken in that context. I'll hope I'll come out of the Michigan
Handheld conference with completely different perspectives)
Upcoming Projects: I hope to have Division and Multiplication applications completed by the November Michigan Conferences. Introduce them there.
I'm creating a new Vocabulary application that allows the user to directly link into the now freeware NoahPro Dictionary and Thesaurus.
I love the concept of linking existing applications together. The student operates under the umbrella of an application that directly connects to other useful resources without hunting around. If anybody has any cool suggestions I'd love to hear them.